By Kevin Siembieda
One game system – every genre – countless worlds – endless adventure
Happy holidays to everyone! Christmas is nearly upon us and Kwanzaa is Wednesday. We send all of you who celebrate these holidays the warmest wishes and hope your celebration is joyful and filled with love.
I have been delighted to see so many gamers from outside the USA taking advantage of the Christmas Surprise Package offer. As I have noted, it is a great way to mitigate the shipping cost. I mean, if you are getting roughly $100 worth of product for $46, the high cost of shipping (typically $50-$65 outside the USA) is mostly negated. It's like buying the books at retail plus a little extra for shipping. Can't speak to VAT or Customs fees, but it's a big help. We have been seeing a lot of orders from Australia, Canada, England, Finland, France and Germany as well as other European countries. And of course, tons of Surprise Packages for our fellow Americans. Smart, because these Grab Bags are a great deal and a way to get signed books. I'm also pleased to see many new customers joining the ranks of Palladium gamers and a large number of gamers coming back into the fold! Awesome, we welcome you all. Keep those orders coming because the Surprise Package offer will be continued for a few more weeks.
Palladium is extending the Christmas Surprise Package offer for a few weeks AFTER Christmas. This extension has become part of the Grab Bag tradition as much as the Surprise Packages themselves. And do not miss the new DriveThruRPG.com Sale of Rifts® PDFs titles including Rifts® Ultimate Edition, Rifts® core books, Rifts® World Books, Rifts® Sourcebooks, Rifts® Adventure Sourcebooks, and the Coalition Wars® Siege on Tolkeen™ Sourcebook series. Remember, it's not too late to send a Rifts® PDF Holiday gift or a Gift Certificate in time for the holidays! More details below.
Christmas Surprise Package Offer – EXTENDED to January 14, 2019
This is absolutely your last chance to snag a 2018 Surprise Package as a gift for a birthday, anniversary, Valentine's Day (it will be here before you know it), graduation, or a treat for yourself. A Surprise Package is an inexpensive way to try new games, new settings, fill holes in your collection, get caught up on The Rifter®, or replace battered old books. Whatever the reason, order soon, because this offer is almost over.
Why extend this amazing offer? Because it is the nice thing to do. We realize many of you are so full of the Christmas Spirit that you spend your money on gifts for your loved ones rather than yourself. This wonderful act of charity often leaves no money for you to buy a Palladium Surprise Package for yourself. We think that sacrifice is pretty wonderful and what the holiday season is all about, so we extend the offer so that you selfless souls can pick up a Surprise Package after the holidays. We know this happens, because a lot of people over the years have thanked us for the extension for this very reason.
The extension is also for you Johnny Come-Latelies who are so caught up in the holiday frenzy, work and life that somehow you miss placing your order for the Christmas Surprise Package before the offer ends. It is also for those of you who wish you had ordered one (or another one) but forgot. Lastly, it is our way to carry that holiday good cheer into the New Year. So get your post-holiday Surprise Package and enjoy. Please note that this offer will not be extended further. This is your last chance. And please spread the word to let people know the offer is extended for a short time. Happy Holidays.
Get RPG books for the price of PDFs – via the Palladium Christmas Surprise Package
What is a Christmas Surprise Package? A way to get $95-$100 or more worth of physical gaming product (not PDFs) for the price of PDFs! For ONLY $46 (plus shipping and handling), get gifts for others or for yourself. And each book is signed if you should want autographs. It is our way of saying thank you to our many fans for their support. You are appreciated more than you may realize.
The best deal of the holidays! You are likely to pay $50 or more for just a single core rule book, but for $46 plus shipping, you can get 4-6 books in a Palladium Surprise Package, depending on their retail value. Or you can get that core rule book and 2-4 sourcebooks. And we will sign the books if you request it. How do you beat that? It simply is the best deal in gaming! Our way of giving back to the fans and making the holidays special for you. A 20 year tradition of which gamers cannot get enough.
Palladium Surprise Packages make the perfect holiday gifts for the gamers in your life. Whether you celebrate Christmas, Hanukkah, Kwanzaa, or the Winter Solstice, or you're looking for a gift for a birthday, anniversary, Valentine's Day, or any special occasion that falls between now and March, a Surprise Package may be the ideal way to go. You get a ton of stuff on the cheap, you can get a bunch of autographs, and you look like you spent a fortune.
Fill holes in your own collection.
Try new game settings – Rifts®, Palladium Fantasy®, Heroes Unlimited™, Splicers®, Nightbane®, Dead Reign®, Beyond the Supernatural™, Rifts® Chaos Earth®, After the Bomb® (mutant animals), Ninjas & Superspies™, RECON® and all the rest.
Get cool stuff (miniatures, bookmarks, maps, prints, greeting cards, T-shirts, etc.).
Request autographs and Kevin and available Palladium staff and freelancers will sign every book.
Get something for your fellow gamers or favorite Game Master, husband, wife, brother, sister, child, etc.
Be surprised when the package arrives.
Please spread the word to gamers everywhere. People only learn about the Palladium Christmas Surprise Package offer by word of mouth, The Rifter® and our website, so please post and spread the word everywhere.
Click here to get all the details or to place a Surprise Package order.
Holiday PDF Sales from Palladium Books®
It's not too late to send a Rifts® PDF Holiday gift in time for the holidays. Or to get that little something for yourself.
We are celebrating the arrival of Christmas and Kwanzaa by offering different sales of PDF titles on DriveThruRPG.com through Christmas and into the new Year.
Every few days, one PDF game sale will come to an end and another will start. This sale offers the Rifts® core books, World Books, Sourcebooks, and more! It all takes place on DriveThruRPG.com – enjoy.
DriveThru Christmas Sale #4 – Rifts® RPG, World Books AND Sourcebooks – Weekend of December 20-23, 2018.
The following PDF titles are all on sale for a very limited time:
Rifts® Ultimate Edition
Rifts® G.M. Guide™
Rifts® Book of Magic™
Rifts® Adventure Guide™
All Rifts® World Books™
All Rifts® Sourcebooks
All Rifts® Adventure Sourcebooks
Coalition Wars® Siege on Tolkeen Sourcebooks
A clue about the next sale: Explore the Megaverse®.
Merry Christmas and Warm Wishes from All of Us at Palladium Books
In the joyful spirit of Christmas, the rest of this Update is limited to comments from just some of the many fans who leave us brief comments in their Surprise Package orders. We love reading them and seeing people's favorite books, and appreciate the kinds words, holiday well wishes and constructive suggestions. I read every single Grab Bag order and select the items that go into each one. I try to make each one special and tailored to your wishes and wants.
I also like posting some of the comments in these Weekly Updates so you can see what other gamers are saying and playing. It also enables me to give a little shout out to some of you to show our appreciation. Even though we only indicate the person's initials and the city and state where they live, we hope you know who you are. Of course, we appreciate each and every one of you, and wish you ALL a very Merry Christmas, a Happy Hanukkah, a joyful Kwanzaa and Winter Solstice, and a wondrous New Year that is filled with good health, prosperity and joy.
– Santa Kevin and his Palladium Elves
Surprise Package comments from fans like you
Every year there is a section where the customer can offer comments and suggestions with his or her Surprise Package order. Every year, in acknowledgment of our fans, and because they are fun to read, we offer a sampling in the Weekly Updates. Our heartfelt thanks to all of you who have stuck with Palladium through thick and thin. Keep those imaginations burning bright, have a joyous holiday season, and game on.
You have no idea how much your comments and support mean to all of us. Everyone at Palladium enjoys reading your brief comments. They always brighten our day. Thank you. I have tried to write a short response [in brackets] when applicable.
W.B. in Glenalta, South Australia, writes: Thank you for continuing to do this each year. I really appreciate the incredible work you have all done over the years. Merry Christmas and Blessings on you and your families.
[Thank you so much W.B., your Christmas greeting and warm wishes are very appreciated. I intend to keep the Surprise Package tradition going for many years to come, as well as continuing to knock out games and sourcebooks to fire up your imagination. – KS]
M.L. in Narvik, Norway, writes: The one stress-free purchase of the season! Thank you and warmth and lights for all!
[Same to you M.L., glad we can help during this busy time of year. Enjoy. – KS]
W.S. in Pasadena, Maryland, writes, in part: I love Palladium's products. I have been playing your RPGs since I was 16 years old! I grew up on your products. All I want to say, and I hope this makes it to Mr. Siembieda, is thank you for all your spectacular, fantastical hard work. My life is better because of the outlet for my creativity that you have provided. Well done to you and everyone who has ever contributed no matter how small to your Megaverse®.
[I am humbled by your heartfelt words, W.S. Thank you. I've said many times before, we love what we do and love our fans. I could not have asked for a more magical life. Sure we've had our troubles and tribulations. Life is hard. But it becomes so much less difficult and so worthwhile when you are writing and designing for people like you and so many Palladium fans. I hope to continue to do so for another 2-3 decades. Keep that imagination burning bright and thank you so much for your kind words. They mean a lot to all of us.
T.T. in Oshawa, Ontario, Canada, writes: Favorites: Palladium Fantasy®, Heroes Unlimited™, and Rifts®. My 12 year old son has been gaming Palladium since he was seven years old. He is now spreading his wings and Game Mastering.
[That's very cool, T.T., I'm sure he'll be good at it. I'm tickled to hear about so many youngsters getting into our games thanks to their gaming parents. Happy holidays. – KS]
C.H. in Ellendale, North Dakota, writes: We love all the books! We have moved, but our small group still gets together once a week. Our two daughters are as interested as ever. The six year old is asking to join the table.
[Nice, C.H., soon game night will be a family affair. Thank you for the kind words and game on. – KS]
J.T. in Toronto, Ontario, Canada, writes, in part: After the Bomb® were probably my first [gaming] books. I love Heroes Unlimited™, also Beyond the Supernatural™ is great, with average humans fighting great evil. I just want to thank all of you for going to Anime North and talking to me, even about movies and signing my stuff. It was a pleasure meeting you all. I am an old gamer and I think your system is the best and most creative out there. Thanks again to all the staff and freelancers. Take care all of you.
[Hey, J.T., it was nice meeting you as well. We love Anime North and are happy to attend whenever they are kind enough to invite us, our schedule permitting. As for chatting with you about all kinds of stuff, we're just fan boy nerds like you who love RPGs, movies, comic books and so on. Thanks for your kind words. Game on! – KS]
C.C. in Thomasville, North Carolina, writes: Favorites: Palladium Fantasy®, Dead Reign®, Beyond the Supernatural™, Ninjas & Superspies™, Weapon Compendiums™ and The Rifter®. Looking to rebuild my Nightbane® collection. Also wanting to catch up on The Rifter®.
[I'm glad you enjoy our games so much, C.C. I think you'll enjoy your Grab Bag. Ho, ho, ho. – KS]
N.O. in Mankato, Minnesota, writes: Thank you so much for putting out such amazing material. I have been so happy to be able to get back into games after being away for a few years. I have been lucky to have enough local friends to play with and I have had a lot of fun introducing them to Palladium games! I look forward to opening my Grab Bag from Kevin!
[Welcome back to Palladium gaming, N.O., and thank you for your kind words. I hope you liked the Surprise Package and continue to have fun gaming away. Please keep that imagination burning bright. – KS]
B.C. in Ajax, Ontario, Canada, writes: I figured this [the Grab Bag] was the best way to complete my Palladium Fantasy collection. Merry Christmas to all of you and God Bless.
[The same to you, B.C. May you and your family be blessed and enjoy a wonderful Christmas and prosperous New Year. And you are right, the Surprise Package is a great way to fill collections and get more bang for your buck. – KS]
R.K. in Hixson, Tennessee, writes: A major thank you and Merry Christmas to you and all your staff. You guys have given me and my friends countless hours of fun fiction and fantasy just by doing what you guys and gals do. So again Merry Christmas and a blessed New Years.
[Thank you, R.K., for your support and warm regards. My you enjoy a joyful Christmas and a blessed New Year as well. – KS]
P.G. in Melrose Park, Illinois, writes: Thanks again for many years of adventure.
[You are welcome, P.G., may there be many more to come. – KS]
W.K. in New York, New York, writes: In the process of replacing some of my well-used books.
[This is the way to do that, W.K. Game on. – KS]
M.Q. in Fort Knox, Kentucky, writes: I have been playing Rifts® since the very first edition was released. I am glad that I can introduce a brand new generation of up and coming gamers to your games.
[Much appreciated, M.Q. Thanks for the years of support. I hope the new generation likes it as much as you do. Happy Holidays. – KS]
C.O. in Chicago, Illinois, writes, in part: Been playing Rifts® since 1994. Still play the same hatchling Great Horned Dragon in one of my three campaigns... If you ever do make a book dedicated to dragons ... KS]
[Hmmm, funny you should mention a book dedicated to dragons. In the meantime, C.O., you might want to check out Dragons and Gods™ for Palladium Fantasy® with Rifts® conversion notes, if you haven't already.
E.V. in Webster Groves, Missouri, writes, in part: Autographs not necessary, but nice ... thank you for still being around after all these years! I even still have my 1st Edition copies of Beyond the Supernatural™, Robotech® and TMNT®, lol. You guys are such a part of my life, I hope for many more years to come. Keep up the amazing work.
[I hope so too, E.V.! We have ideas for a million books and some truly epic story arcs. We love what we do and the people, like you, who we do it all for. I think our passion and respect for our audience shows through in our work. Thanks for appreciating that. Btw, happy to sign books. – KS]
M.W. in North Grafton, Massachusetts, writes: My gaming group and I loved meeting you all at Gen Con and we hope to see you again next year! I personally cannot wait for the Rifts® Bestiary.
[We'll be at Gen Con next year, M.W., so please swing on by the booth. I can't wait for the Rifts® Bestiary to come out either. Volume One, coming soon. I'm afraid the holiday season put a crimp in getting it done sooner. Funny how we forget, every year, how much time the Surprise Packages take, but they are worth every minute. Lots of great stuff coming in 2019. – KS]
C.H. in Port Perry, Ontario, Canada, writes, in part: My husband has loved Rifts® since he found this community as a teenager ... He has passed on his love of the game, the creativity, and the camaraderie to our two daughters, 10 and 16, as a family game... Thanks.
[That's wonderful, C.H. I am always thrilled to see our love for role-playing games passed on to new generations. I hope the Surprise Package was a hit with your family. Keep that imagination burning bright and happy holidays. – KS]
J.W. in Vancouver, Washington, writes: Thank you for once again providing this wonderful opportunity [the Surprise Package offer] during the holidays. I greatly appreciate the chance to complete my After the Bomb® and Heroes Unlimited™ book collection at a fantastic price! Likewise, the ability to check out new areas of the Palladium multiverse that have long intrigued me is just the motivation I needed to take the plunge. Last year was my first time taking advantage of this awesome offer. I was extremely happy with what I received. Best wishes to you all during this festive season and the year to follow.
[Happy to do it J.W., for exactly the reasons you outlined so wonderfully in your comments. I have made sure you'll enjoy this Grab Bag just as much as the last. Merry Christmas and happy New Year. May it be a great one for us all. We will certainly try to bring you a lot of new products to fuel your imagination. – KS]
D.T. in San Antonio, Texas, writes: Kevin, you deliver imagination and adventure to us all year. I hope that you and your game making geniuses enjoy the holidays as much as you have entertained us all.
[Awww, how nice. Thank you, D.T. We have a lot of new books to finish and get into everyone's hands, so time off is minimal. That said, we are enjoying the holidays and this time of giving very, very much, Thank you. – KS]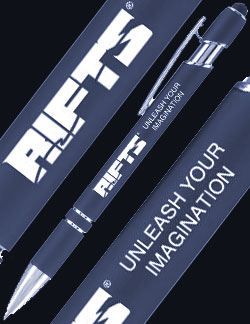 NEW: Rifts® Pen – available now
A high quality, soft touch Rifts® pen with stylus is now available. The pen fits very comfortably in the hand, has a nice, black ink and writes smooth and evenly every time. I have been using the sample pen for a month and love it. Everyone here loves this pen and you will too. Will be considered as a Surprise Package request.
Rifts® Soft Touch Pen with Stylus.
Comfortable, "soft touch" finish.
Dark blue exterior with silver tip and clip.
Black ink.
Capacitive stylus for use with smartphones and tablets.
$5.00 retail – Cat. No. 2586 – Available now.
Palladium Gift Certificates now available
You asked for them, so due to popular request, you can now purchase Palladium Gift Certificates for your gaming friends and loved ones. The prompts should be pretty self-explanatory. You purchase the desired amount, fill out the email info of that person along with an optional gift message, and that individual gets an email with info on how to redeem the Gift Certificate and you get a confirmation email. Simple.